Policies
Check-In & Check-Out
Spa - Please arrive 20 minutes prior to your first spa reservation.
Lodging - Check-in is between 4 and 8:30 p.m. Late check-ins can get instructions at the night box outside the lodging office. Check-out is between 8:30-noon. Early check-in/late check-out can be arranged for a fee by contacting the lodging office at 505-992-5003.
Cancellation Policy
Spa - We ask guests to guarantee all reservations with a credit card. This card will not be charged unless you cancel or change without giving us adequate notice. For baths and treatments, we require 24 hours notice to cancel or change without a penalty.
Lodging - The first night of your stay is charged at the time of reservation. Cancellations fourteen or more days prior to the reservation will receive a full refund. Those within four and fourteen days will receive credit toward a future stay. If cancellation is made less than 4 days prior to check-in, deposit is forfeited.
Children & Under 18
At Ten Thousand Waves, we are inclusive, not exclusive. We welcome well-behaved children in our lodging rooms and baths. To provide a peaceful environment for all:
all children are full price in communal hot tubs

no children in diapers or of diaper age in communal hot tubs

no charge for children under 4 feet in any private tub (2 kids maximum per adult)

during busy times (weekends and holidays--call to confirm) Shin Kobuta will be reserved as a communal tub for adults only (no children under 4 feet allowed)
Anyone under the age of 18 must have the permission of an adult to use our facilities. All minors must be accompanied by an adult and wear bathing suits in our communal baths. The parent or guardian does not need to be present during spa treatments.
Parking
There is plenty of parking at street level, and limited additional parking at the spa level, approximately 60 vertical feet higher. Those with physical limitations should consider the upper lot. The walk from the lower lot, however, is very pleasant and provides a good transition from your busy day to the tranquility of Ten Thousand Waves. Passengers may be dropped off at the entrance to izanami or the spa. There are two handicap spots very close to the spa front door and two near izanami. We have a shuttle service from all lower parking lots. Look for the call boxes to summon the van.
Lodging guests will follow the signs to the lodging office at street level and be directed to parking adjacent to their rooms.
Pets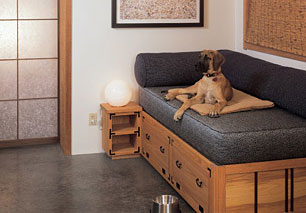 At Ten Thousand Waves, we are inclusive, not exclusive. All lodging rooms are pet-friendly. Please advise us at the time of reservation if you will be bringing a pet. We provide dog beds and food/water bowls. Some rooms have dog-proof courtyards (unless he's a champion jumper)[see 'amenities' on the lodging page for a list of those rooms]. If you leave your pets unattended in the rooms, you will be financially responsible for any damage or disturbance to other guests from a barking dog. Please do not leave your pet unattended. There is a $40 room charge per night for one or more pets.
Pets are allowed in private baths at the spa, but not in communal baths.