Discounts
There are several ways to get discounts
Children's Private Tub Discount
There is no charge for children under four feet tall in all private tubs and spa suites. To receive this discount there must be a minimum of one adult for every two children. There is no discount for children in communal tubs.
Communal Bath with Treatment
If one person chooses treatments totaling 50 minutes or longer, unlimited time in the communal or women's bath is complimentary.
Waribiki Club Card: New Mexico residents receive, at no charge, a card that entitles you and all accompanying guests to a 20% discount every day of the week for all private baths, massage, and spa treatments starting at 5 pm or later. Your card also entitles you and all guests to admission to communal tubs for $25 (including tax) all day every day of the year. Details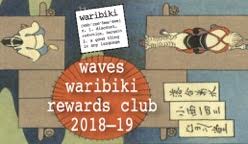 Group Discounts
For groups, New Wave and Shin Kobuta may be reserved for great savings at any time of day One person must pay for the entire party.
Lodging Specials
Be sure to check our Packages & Specials page each month for lodging specials or like us on our Facebook page to receive announcements of special deals and events.
We try to make our prices affordable. For repeat guests and those who spend longer periods of time with us, the value is even greater. To find special offers, membership rewards, and discounts look to: