SAKE HAPPY HOUR
every Friday and Saturday from 4-5 pm
Purchase any flight of sake and get 50% off on some of our most popular bites on a special happy hour menu. Choose the special flight of the week or any flight on our sake menu
It's a great way to sample a variety of different styles from the most extensive sake list within a thousand miles! We also serve more nama (unpasteurized) sake than any restaurant in North America.
Happy Hour menu available only between 4:00 pm and 5:00 pm No sad people allowed! Write us at
izanamievents@tenthousandwaves.com for more details.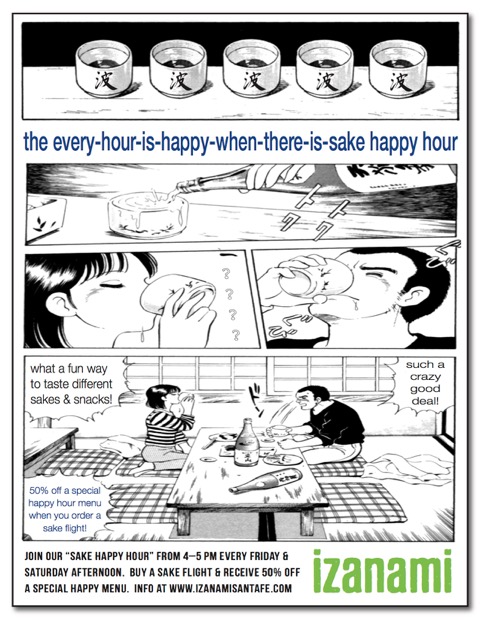 WINE VS. SAKE TASTING DINNER
THE FOURTH ANNUAL BATTLE OF THE BEVERAGES!
during the week of the Santa Fe Wine & Chile Fiesta
September 25th 2019 doors open 6:30 pm, the match begins at 7:00 pm
Five amazing courses prepared by Chef Kiko, each paired with the perfect wine and the perfect sake
You be the judge--vote for the winner of each round!
Sake provided by Floating World Sake, purveyors of the best and most unusual sake imported into the US
Wines provided by Craft & Estate -- tonight featuring five amazing Greek wines. If all you know is retsina, you're in for a treat!
$139 includes five courses, each paired with sake and wine
Call 505-428-6409 or write izanamievents@tenthousandwaves.com for reservations or more information